NEWS Italian Minister of Education Visits Jewish School in Rome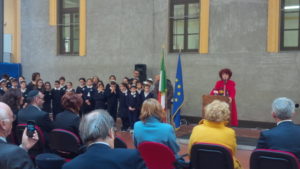 By Ada Treves
Two intense and emotional hours in the Jewish school of Rome: this was the surprising outcome of a visit of the Italian Minister for Education, University and Research that was supposed to be a rushed first occasion of knowledge and discovery. Last Thursday, Valeria Fedeli took the time to meet with all local and national representatives of the Jewish communities that run one of the four Jewish schools still resisting in Italy, notwithstanding the many difficulties.
After visiting the school, and having attended some classes, the Minister had a strong message to share with the students: "Study, and take your own responsibilities: this is the only way to be citizens of the world."
The President of the Jewish Community of Rome, Ruth Dureghello, the President of the Union of the Italian Jewish Communities (UCEI) Noemi Di Segni, the headmasters rav Benedetto Carucci and Milena Pavoncello, and the presidents of the other three Communities where there is a Jewish school – Milo Hasbani and Raffaele Besso from Milan, Dario Disegni from Turin, and Alessandro Salonichio from Trieste – were there to welcome and accompany her and her diplomatic adviser, Gianluigi Benedetti. Together with them, also Livia Ottolenghi and Daniela Debach, in charge of the "School, Education and Youth" sector respectively for the UCEI and for the Jewish Community of Rome and the Director of Jewish Studies, rav Roberto Colombo were present.
The Minister gave an important signal to the Italian Jewish Community, a tangible sign of attention and of the desire to see, to meet, to directly and personally know Italian Jews. Valeria Fedeli also declared her commitment and her intention to visit all the institutions that educate, train and support the development of the Jewish identity, and repeated this committment to the presidents of Milan, Turin and Trieste Jewish Communities, those that despite the many difficulties still have a Jewish school.
Clearly moved, the Minister turned directly to the students: "You are a vital part of our future: you are Italian girls and boys and you carry values, culture and a history that are a vital component of our society. Sitting in class with these student – she wanted to emphasize – I have felt the power of the ideas and values you teach in this school and I do think you are bearers of an extraordinary message that is important for the whole of our community. I want to remind you the words of our Constitution: 'All citizens are equal before the law, without distinction of sex, language, religion, political opinion, personal and social conditions'. This should be well known, and it should become an important part of your work in all classes."
The visit marked a relevant first step in the process of knowledge and recognition of the importance of Italian Jewish schools.