NEWS Italian Minister of Interior Meets with Delegation of Young Jews, Muslims and Christians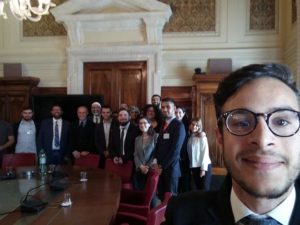 By Pagine Ebraiche staff
 
A delegation of representatives of the Union of Italian Jewish Students (UGEI), the Islamic Confederation of Italy and the Community of Sant'Egidio met with the Italian Minister of Interior Marco Minniti at the Viminale, the headquarters of the Ministry last week.
"The future should not be taken hostage by the past. May young Jews, Muslims and Catholics be pioneers of a new humankind," said the Minister.
"This is an important meeting. We all came here to reiterate the fundamental role of dialogue and to promote the values of peace and tolerance, shared by the three monotheistic faiths. We hope that our message will reach the world beyond the Viminale as well," highlighted Ruben Spizzichino, UGEI vice-president.
"We are happy to accept the invitation of the young representatives of the Islamic Confederation of Italy to their national convention. The meeting with Minister Minniti is an important step in the path for interfaith intercultural dialogue," commented Filippo Tedeschi, UGEI second vice-president.