NEWS Against Anti-Semitism, Public Readings of Anne Frank's Diary in Milan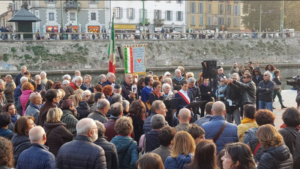 By Daniel Reichel
Hundreds of people attended the public reading of The Diary by Anne Frank last week in Milan.
The event was organized by the president of the municipality 6 of Milan, Santo Minniti, in response to recent acts of anti-Semitism by Lazio fans: two weeks ago, supporters of the soccer club defaced their Stadio Olimpico in Rome with anti-Semitic graffiti and stickers showing images of Anne Frank, wearing a jersey of their rival Roma team.
"The Nazi-fascist and anti-Semitic drifts are a problem that affects everyone. Every attack to the memory of the Holocaust is an attack on democratic institutions, which requires an institutional response: on the resistance to Nazi-fascism, sanctioned by our Constitution, we are not willing to retreat", explained Santo Minniti during the event.
Many people gathered in the Darsena harbour (south Milan) to read together the pages of the famous diary.
"We are here – stressed the deputy mayor Anna Scavuzzo – to keep together the experiences of past generations with those of the new, and to make memory be part of the living soul of the city".
Many members of the Jewish Community of Milan, represented, among others, by the member of the board in charge of culture Davide Romano, attended the initiative.
Romano highlighted the need to « vaccinate » young people against the poison of racist hatred and teach them the principles of democracy, freedom and respect for others.
"It is everyone's duty to preserve the memory that keeps us human", said Santo Minniti.
Behind him and those who read pages of the diary, the banner of Aned, the association of former deportees to the Nazi camps, and the Italian flag of the Anpi, the association of partisans, represented by Milan's section president, Roberto Cenati.
Cenati stressed the importance of memory, linked to historical knowledge, which – he explained – is the only real antidote against the virus of anti-Semitism and racism. The Milanese Committee for stumbling stones memorials also attended the event.