NEWS Jewish Leader urges Italian Sports Authorities to Fight Anti-Semitism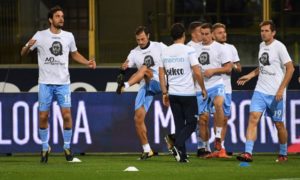 By Philip Pullella*
ROME (Reuters) – Italian sports authorities must do more to root out anti-Semitism in stadiums and apply sanctions against offending fans, the head of the country's Jewish communities said on Thursday.
She was reacting to an anti-Semitic outburst by Lazio fans, who pasted stickers of Holocaust victim Anne Frank wearing the jersey of their rivals AS Roma at Rome's Olympic Stadium.
"There is a new way of expressing anti-Semitism and sports is one of them," Noemi Di Segni told Reuters.
The episode last Sunday was widely condemned and on Wednesday night a passage from Anne Franks' diary was read out loud at the start of Serie A matches during what was billed as "a moment of reflection".
Lazio players wore T-shirts bearing Anne Frank's picture and the slogan "No to Anti-Semitism" over their jerseys at the start of their away game against Bologna. Copies of her diary were handed out to children.
"Much, much more needs to be done. What was done last night was an important gesture, but it's absolutely not enough," said Di Segni, the chief non-religious representative of Italy's some 25,000 Jews.
"We need more legality," she said. "Sanctions need to be applied. If there are rules, they need to be applied. If people behave badly they need to be sanctioned and this is not happening right now."
Some Lazio fans chanted a Fascist-era song during Wednesday's match, leading Italy's leading sports newspaper La Gazzetta dello Sport to write "The shame has no end."
According to Italian media reports, police have identified 20 people who are suspected of having placed the Anne Frank stickers and anti-Semitic slogans at the stadium, including several who had been previously banned for hooliganism.
WREATH
On Tuesday, Lazio Chairman Claudio Lotito and other team officials laid a wreath of flowers at Rome's synagogue in an effort to made amends with the Jewish community.
"Coming to the synagogue and saying I'm sorry to us is not enough. He (Lotito) needs to say 'I'm sorry' to civil society," she said, because the stadium incident "was not just an offense to the Jewish people but to all civil society".
Young people from the Jewish community later threw the wreath into the nearby Tiber River following the broadcasting of a phone conversation in which Lotito is alleged to have belittled his gesture as something he had to do for "show".
Di Segni said, however, that the wreath of flowers should not have been thrown into the river. The Jewish community should not "speak the same language as them," she said, referring to the sometimes-violent soccer fans.
Episodes of racism are commonplace in Italian soccer, and Lazio supporters, who have a reputation for right-wing extremism, have often run into trouble with the authorities.
Di Segni said she hoped the episode would lead to greater awareness of anti-Semitism in general.
"It is important to focus on the education of young people. Television and sports have so much power and the media has to understand that they can do a lot (to help)," she said.
Anne Frank was born in Germany but her family fled to the Netherlands to escape the Nazi takeover. They lived in hidden rooms in Amsterdam before they were discovered by German occupiers and deported to concentration camps.
She died in the Bergen-Belsen camp, aged 15, and her diary recounting the family's time in hiding became a centerpiece of Holocaust literature.
*This article was published in Reuters on October 26, 2017.