NEWS UCEI and Polish Embassy Jointly Commemorate Warsaw Ghetto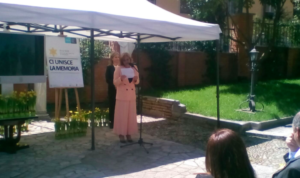 By Pagine Ebraiche staff
The Union of Italian Jewish Communities (UCEI) and the Embassy of Poland in Rome organized a joint ceremony to commemorate the 75th anniversary of the Warsaw Ghetto revolt last week.
The event took place in the Polish embassy. The UCEI president Noemi Di Segni emphasized how the commemoration marked an opportunity for true joint remembrance, but also to point out some issues that cannot be overlooked.
"As I highlighted in a letter to President Andrzej Duda on behalf of the Jewish Communities of Italy last February, we all share a deep concern for the consequences of the law recently passed by the Polish Parliament on the matter of Polish responsibilities during the Shoah. We fear this legislation could be an obstacle to the protection of the memory of the Shoah", Di Segni said. "We are weary of the idea that in a European country people risk being put in jail for their ideas or studies. This isn't, nor can it be, the purpose of law".
During the revolt, about 6,000 people were killed, and another 7,000 died in the fires of houses and bunkers. The remaining 50,000 Jews were deported to the death camps.
During the ceremony, each participant received a yellow narcissus, the flower chosen to pay homage to those who sacrificed their lives by one of the survivors, Marek Edelman.
"Poland was undoubtedly a victim of the cruel German occupation. In its territory, Germany carried out the most brutal crimes in the history of humanity. Poland was destroyed, turned into a heap of ruins, destroyed in its national pride. However, the hatred towards the Jews, that had existed for centuries, persisted. We must have the courage to ask ourselves, you must have the courage to ask yourselves, if more could have been done, if things could have been done differently, prevented, and how," added Di Segni, pointing out the fruitful friendship between the UCEI and the Polish Embassy. "But the first duty of a friend is honesty, through a brave and challenging dialogue".