NEWS Israeli Ambassador Meets with Minister of Interior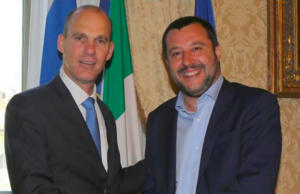 By Pagine Ebraiche staff
Israeli ambassador to Rome Ofer Sachs met with the Minister of the Interior and deputy Matteo Salvini at the Viminale palace last week.
Among the topics they discussed were cybersecurity, the fight against crime and terrorism and immigration issues.
"It was a very positive meeting that confirmed the high level of cooperation between our two countries in many fields", Sachs told Pagine Ebraiche.
The ambassador invited Salvini to Israel. "For now it is only an invitation, there is no date yet, but it should happen in the next few months".
"I would like to hold a bilateral conference between our governments to strengthen all aspects of our relations. We already have a good cooperation in the security sector, a cooperation that I intend to expand. A trip to Israel is among the priorities on my international agenda and it should happen in the fall at the latest", commented Salvini, as reported in a statement by the Ministry.
"Israel is a country that pays attention to all issues related to the central Mediterranean, including the Libyan geopolitical situation. I applaud all initiatives that could bring peace and stability to the area and I know that Israel is directing many efforts to cooperate with African countries," the Minister concluded.