NEWS Italian Synagogues Turn on Lights to Mark Anniversary of Kristallnacht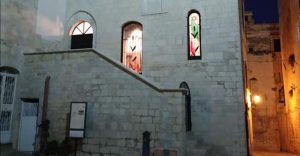 By Pagine Ebraiche Staff
Synagogues all over Italy kept their lights on to mark the 80th anniversary of the Kristallnacht last Thursday November 8.
In Germany on November 9-10, 1938 a violent pogrom against synagogues, Jewish businesses and homes devastated thousands of buildings and claimed hundreds of lives.
The Union of Italian Jewish Communities and the Italian Rabbinical Assembly decided to join the initiative launched by the World Zionist Organization.
"The goal was to focus not only on the symbolic aspect of turning lights on, but also to bring life and Jewish life into all of our synagogues. The goal was to keep the light of Jewish identity on through prayers, reflection and learning," commented Italian rabbi Giuseppe Momigliano