NEWS Rivlin in Rome: "The Connection Between Italy and Israel is Strong"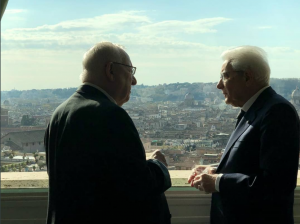 By Pagine Ebraiche staff
The President of Israel Reuven Rivlin visited Rome last week. On his agenda were meetings with his Italian counterpart, Sergio Mattarella and with prime minister Giuseppe Conte.
Speaking with Conte Rivlin highlighted the friendship between the two countries and also remarked on the importance of putting pressure on Iran "as an essential step in the fight against its' nuclear armaments".
The president of Israel also had a private meeting with the president of the Union of Italian Jewish Communities Noemi Di Segni. Among the topics discussed were the deep connection between the Italian Jewish community and Israel, its millenia long history and the situation concerning anti-Semitism in Italy.
Finally Rivlin met with the Pope. "The relations between the State of Israel and the Holy See are of tremendous value for both of us; I hope they can be strengthened and deepened in the future," he commented.
During the meeting, the two leaders also discussed the latest crisis with the terror group Hamas.
"Israel will not stand idle while Hamas threatens stability or hurts our citizens", highlighted Rivlin.