NEWS Israeli FM Israel Katz visits Italy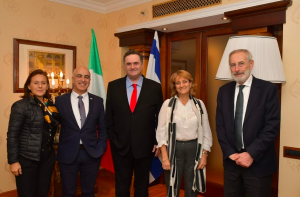 By Pagine Ebraiche staff*
Israeli Foreign Minister Israel Katz was in Rome last week to attend Med Dialogues, an international conference organized by the Italian Ministry of Foreign Affairs and Milan-based think tank ISPI.
Katz met with his Italian counterpart Luigi Di Maio, the leader of the Democratic Party Nicola Zingaretti and League leader Matteo Salvini.
The Iranian threat was among the issues the Israeli minister discussed.
"We will not allow Iran to produce or obtain nuclear weapons," he said in an interview with Italian daily Corriere della Sera.
"If it were the last possible way to prevent it, we will act militarily. We believe that the US pressure and its sanctions are effective. We expect them to reduce Iran's attempts to procure nuclear weapons and support terrorist groups, but this will be easier if there is support from European countries," he added.
Katz also met with representatives of the Italian Jewish community. He participated in an event in Milan that saw the inauguration of a new organization to promote friendship between Italy and Israel, the Friends of Israel Democratic Union.
Together with Israeli Ambassador to Rome Dror Eydar, he also met with the president of the Union of Italian Jewish Communities Noemi Di Segni, the chief rabbi of Rome Riccardo Di Segni and the president of the Jewish Community of Rome Ruth Dureghello. Attending the meeting were also deputy ambassador Ofra Farhi, and public affairs officer Ariel Bercovich.
Iran, the relationship between Italy and Israel and the position of Italy in the international organizations were among the topics discussed.