NEWS Italy and Israel's Agreement on Agriculture: "Let us Learn from the Best"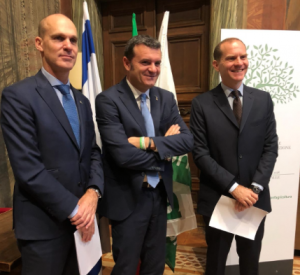 By Pagine Ebraiche staff
Seventy years of history and innovation together with a well-founded forward-looking relation, blended in a memorandum of understanding to promote both countries' agricultural growth. The Israeli ambassador Ofer Sachs and the president of Confagricoltura, the General Confederation of Italian Agriculture, Massimiliano Giansanti signed it last week before the Italian Minister of Agriculture Gian Marco Centinaio. A double birthday was celebrated in the name of scientific research and technological innovation: the 70th year of the Jewish state and the 70th year of Confagricoltura.
"Today Israel is considered as one of the most important hubs for research and technological innovation worldwide. Part of this success is due to the cutting-edge techniques applied to agriculture" stated the Israeli ambassador in his speech. "The Israeli and Italian productive systems are very complementary and keep providing new synergies for business operators. The signature of the protocols – he then added, outlining the peculiarities of Israel's commitment to the cause, especially with regard to water management and water exploiting policies – stands for an important tool for cooperation to improve the connection between our countries, which is already strong."
"In my entire life – stated the Italian Minister of Agriculture – I've always had this way of thinking, that is take a leaf out of others, try to learn from the best acknowledging their credit. It's an effective way to be better. Israel is on a much higher level than Italy in this field. I don't mean to belittle Italy's dedication comparing it with Israel's. On the contrary, I want our country's agriculture to grow, more than ever in this time of need."
On the same wavelength president Giansanti said: "Today's change means innovation, precision farming, digitalisation, as well as internationalisation, learning new cultivation techniques and promoting Made in Italy products throughout the world, encouraging partnerships and collaborations with other countries' operators, such as Israel." Also, according to president Giansanti, Israel faced all of its challenges turning them into a mark of excellence.
Among today's protocol's prospects there's a more comprehensive training for entrepreneurs associated with Confagricoltura. It is based on the results brought up by a study on agriculture in Israel, and it includes events and targeted projects, as well as development support for collaborations between Israeli companies operating in the research field, Confagricoltura and the associated companies.
The relation between Israel and Confagricoltura has been strong for ages, and today proves it. Between the several common initiatives there are three business missions in Israel, which are the collaboration to Expo 2015, Confagricoltura's participation to agriculture-dedicated events in Israel and the dissemination of mutual interest activities via their own information channels.
*Translated by Simone Simonazzi, student at the Advanced School for Interpreters and Translators of Trieste University, intern at the newspaper office of the Union of the Italian Jewish Communities