CULTURE The State Archive of Turin Launches Online Section Presenting Its Jewish Collections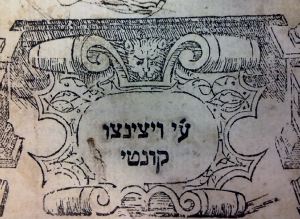 By Pagine Ebraiche staff
The State Archive of Turin has launched a new section on their website devoted to the collection of Jewish books and manuscripts. This will allow researchers to consult its database.
The collection comprises all the materials gathered over centuries by the House of Savoia; the rulers of the Sardinia Kingdom that eventually became the monarchs of Italy. It is one of the richest collections in the field in Italy and the world.
The books are mostly located at the National University Library of Turin. The work to catalogue them has been carried out by Chiara Pilocane, director of the Terracini Jewish Archive, under the scientific supervision of Corrado Martone, professor of Hebrew language and Literature at the University of Turin.
The study has tracked down the history of many volumes from the printing houses to the current location: often the volumes were confiscated, and the names of the owner written down, which has allowed scholars to reconstruct their vicissitudes.
The research work is still ongoing.