EXHIBITIONS In Turin, Ancient Jewish Books on Display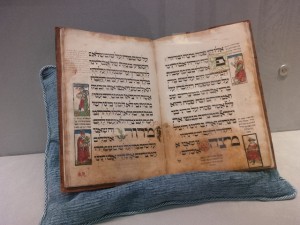 By Francesca Matalon
The collection of Hebrew books of the National Library of Turin are on display in the exhibition "Judaica Pedemontana" and is being shown to the public for the first time.
The exhibition organized and promoted by the Foundation for Jewish Cultural Heritage in Italy (FBCEI) and by the National Library was inaugurated last week and will be open until April 6, 2015. Along with the books written in the Hebrew alphabet preserved by the Library, the visitors can admire ancient silver ritual objects and fabrics belonging to Piedmontese Jewish families and institutions.
"We have the opportunity to rediscover a hidden treasure which is being made available for the first time, not only by scholars but by the public at large," pointed out Dario Disegni, FBCEI President, who curated "Judaica Pedemontana" together with Andrea De Pasquale, President of the National Library.
The Library's great collection of Jewish volumes consists of manuscripts and printed books including numerous incunabula and editions from the 16th century. The interest for Hebrew books dates back to the times of the House of Savoy, explained De Pasquale.
"The first dukes were very fond of books in exotic alphabets, among them the Hebrew language. Piedmont was a very good place for Jews to live", he said. "Their attitude of benevolence towards the Jewish community was shown through the donation of books", he added.
The volumes were not damaged in the fire that struck the library in 1904 and because there never was a librarian that was able to read and speak Hebrew in the past 1,500 years, they did not require any major restoration work.
"This exhibit perfectly reflects the goal of the Foundation for Jewish Cultural Heritage in Italy, which consists of spreading Jewish culture throughout the country and whose Jewish presence dates back more than 2,200 years as well as in the restoration of this heritage and the promotion of research activities", president Disegni said.
The FBCEI's goals are shared as well by the Ministry of Cultural Heritage and Activities and Tourism of Italy, said Rosanna Rummo, General Director of Libraries, Cultural Institutions and Copyright. "We must not focus exclusively on preservation or alternatively on valorization. This exhibition very well demonstrates that it is possible to combine the two aspects," she added.
As a research activity promoted by "Judaica Pedemontana", an international conference on the collection of antique books in Europe between the 18th and the 19th century will be held in Turin on March 27, 2015. Experts are coming from all over Europe to share their knowledge and experience on this topic.