CULTURE Smiling, A Jewish Lesson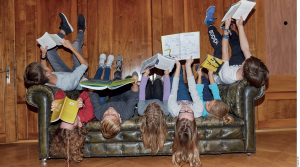 By Ada Treves*
"See you in Bologna" – this is the typical way children's books professionals say goodbye to one another. You can hear it echoing in the different languages spoken at the Bologna Children's Book Fair every year, an unmissable event, a must for those working in the children's publishing industry, who have been gathering every year for more than half a century.
With more than 26,000 visitors every year, the fair attracts a lot of keen professionals – it is not open to the public – over four wonderful crazy days. It represents a major event for publishers, authors, illustrators, literary agents, book distributors, teachers, translators and anyone working in the children's publishing industry. The famous wall where illustrators display their works in the hope of getting noticed is as important as the fact that this fair is the most remarkable event on the trading of publishing rights worldwide – creativity and business blend together in a powerful mix.
After all, passion and a good business sense have been the two driving forces allowing the children's publishing industry to overcome the economic crisis. Switzerland, the guest of honor, sends its best artists to the event, including Hannes Binder, one of the leading representatives of the illustration industry in Europe. Though not as renowned as the great Tomi Ungerer, who is featured in a two-page article in our special section, he stands out for his ability to extract white from black and light from darkness. A character worth spending more than a few words on is the blue Globi, half-human and half-parrot. Initially conceived as a character to advertise the department-store chain Globus, he made his way into Swiss children's bedrooms and playrooms with his comic strips more than eighty years ago and he has now become a kind of ambassador for democracy, building a bridge between children and this complex, abstract concept. The artist and painter Edith Oppenheim-Jonas gave shape to this character. During World War II, she committed to the creation of graphic artworks and comic strips which could easily and quickly reach out to a whole generation of children, trying to release them from the dark shadows of war and fear looming over them.
We decided to tell her story in DafDaf, the Jewish children's newspaper, which deals extensively with the International Bologna Children's Book Fair and with Switzerland this month. Here is proof that one of the great Jewish lessons is true: real heroism, true honou, the greatest journey to make and the hardest courage to find are the art of not always taking yourself seriously. And of living life with a smile on your face.
*The article was published in the special section Leggere per crescere (Reading to Grow).
Translated by Sara Facelli, with the help of Claudia Azzalini, both students at the Advanced School for Interpreters and Translators of Trieste University and interns at the newspaper office of the Union of the Italian Jewish Communities.