CULTURE Primo Levi's Centennial Program Presented in Turin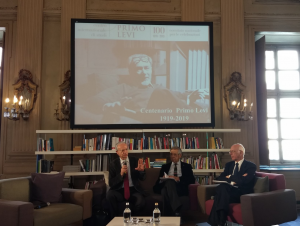 By Pagine Ebraiche staff
The Committee for the Centennial of the birth of Shoah survivor and world renowned author Primo Levi presented the program of the initiatives for the anniversary last week in Turin.
"As Italian President Sergio Mattarella highlighted in his message, the remembrance of Primo Levi represents an important heritage and a reserve of ethics and humanity. Our Committee intends to start a wide range of initiatives in Italy and abroad to promote knowledge and awareness of the civil and moral testimony of a figure whose teachings are essential to our society today more than ever," the president of the Committee Dario Disegni said.
A play based on the book, If This is a Man and a number of events at the upcoming Turin Book Fair, plus movie screenings are among the initiatives organized for the centennial.
The Director and the President of the Primo Levi Center Fabio Levi and Ernesto Ferrera also spoke at the press conference, as well as the President of the Piedmont Region, Sergio Chiamparino as well as the City Council Member Francesca Leon.