NEWS Treasures from the past on display in Bologna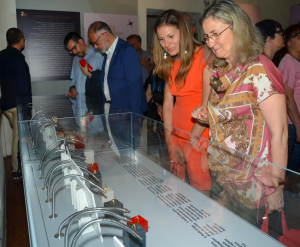 By Pagine Ebraiche staff
The extraordinary artefacts found in the newly rediscovered Jewish cemetery in Bologna, one of the largest medieval Jewish cemeteries in the world, are finally on display at the Jewish Museum in Bologna.
After years of studies and restoration, they are presented in the exhibition, "The House of Life. Jewelry and Stories around the ancient Jewish cemetery of Bologna," curated and organized by the Jewish Museum of Bologna, the Superintendence of Archeology, Fine Arts and Landscape of the Metropolitan City of Bologna and with the collaboration of the local Jewish Community.
On display there is gold jewelry of exceptional workmanship and beauty, engraved stones, and bronze objects uncovered in over four hundred tombs, which attest to the presence in Bologna of a thriving community until the its expulsion, which took place at the behest of Pope in 1569.
The exhibition will be open until January 6, 2020.