CULTURE Leonardo da Vinci on display in Jerusalem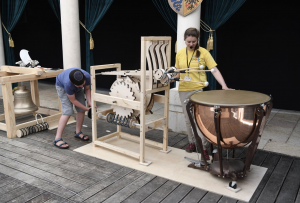 By Pagine Ebraiche staff
An exhibition devoted to the 500th anniversary of Leonardo da Vinci's death was inaugurated at the Bloomfield Science Museum in Jerusalem on July 4.
"The continuous and extensive research, the meticulous method, and the craving for knowledge which has no taboo and defies every preconception: these are just few of his teachings that today, after 500 years, we still treasure," Italian ambassador to Israel Gianluigi Benedetti said on the occasion.
"Although Leonardo's heritage has universal value, we Italians feel very proud of his roots. To be here today, praising his wit, is important in two ways as this year diplomatic relationships between Italy and Israel turn 70. Seventy years rich in cooperation, dialogue and mutual enrichment is a strong bond confirmed by this momentous event," he added.
The focus of the exhibition, called "Leonardo's Questions," is the artist and scientist's all-embracing curiosity which lead him to be considered by many to have been "the most inquisitive person in the world."
"In Leonardo's work the separation between science and art, as we're used to perceiving it, is now one: engineering and painting are different expressions of the same experience of the world. And in his perception he sees man as a whole in the absence of a separation between different fields of knowledge. Here lies the modernity of his work and of his teaching," Benedetti concluded.