Andrea Doria, fostering values since 1895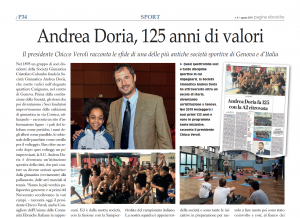 By Pagine Ebraiche staff*
In 1895, a group of dissidents from Società Ginnastica Cristoforo Colombo founded Società Ginnastica Andrea Doria, based in Carignano, an elegant district in the centre of Genoa. The founding group had previously performed in improvised shows in via Corsica, using telephone poles as climbing poles, tree branches as parallel bars, and benches as vaulting horses – as reported by a Ligurian information website.
Well over a century later, Società Ginnastica Andrea Doria has become a sporting institution in Genoa and has several sections, from gymnastics (needless to say) to water polo, from martial arts to tennis. "Our sports company is the oldest one in Genoa. In the early 20th century, our teams distinguished themselves in various sports", said president Chicco Veroli, who is also councillor of the Union of Italian Jewish Communities representing the city of Genoa.
"Our football team achieved various accomplishments in Serie A, where it played for many many years. Afterwards, it merged with Società Ginnastica Sampierdarenese in order to create the Sampdoria football team. Our water polo team stood out as well, being one of the five most titled teams in the Italian championship. It has recently gained back its place in Serie B and will hopefully step further up to Serie A2 next year, when we will also celebrate the 125th anniversary of our company's founding".
"We are organising numerous initiatives which will take place in 2020 and will help us tell our full story, from 1895 to the present day", explained Veroli, who was officially appointed president in 2017. "I started out by simply going to swim in the company gym, but then I became more involved and now I work for Società Ginnastica Andrea Doria, in addition to being committed to the Jewish Community of Genoa and to the Union of Italian Jewish Communities. Our company has 6 sports sections and almost 4 000 members: the swimming section, with a girl who set the under 16 Italian record, and the water polo section; the gymnastics section of course, with Asia and Alice D'Amato, two girls who have been training here since they were children and who will probably compete at the Olympics next year; the tennis section, with several regional champions; Savate, i.e. French boxing, and martial arts. We are happy to have a great number of children involved and we will keep promoting and developing such an environment. In order to do so, we have taken various initiatives, such as registering our logo, settling our debts, finding an agreement to be sponsored exclusively by the Head company.
"Finding the suitable spaces and all necessary resources is one of the biggest issues we have to deal with", Veroli explained. "We are renovating our tennis courses and we would like to renovate the whole building too, which is now 125 years old. We aim at improving our structure, adapting it to our clients' current needs and at encouraging socialisation between the members of our society". There is one more element we are working on, whose concept is harder yet fundamental to grasp: "A code of conduct which clearly states sports values, i.e. integrity, respect for the opponents, responsibility… these are the values we want to teach to our young people, for they are more important than any sports result".

Translated by Sara Facelli and revised by Mattia Stefani, both students at the Advanced School for Interpreting and Translation of Trieste University and interns at the newspaper office of the Union of the Italian Jewish Communities.