SPORTS New alarming racism incidents in Italian Serie A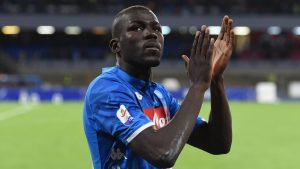 By Adam Smulevich
Another football season has started coming. Yet told problems persist.
Italian Serie A kicked off last week. This year, we will see the highest number of top-class players compared to the last few seasons, as well as an ever timely and disheartening theme, which is often eluded by the people who not only have the capacity, but also the duty to intervene.
Racist slurs against Naples and the fans of Napoli, sung by some Fiorentina fans, tarnished what had been an absolutely beautiful show for long minutes, both in the stands and in the field.
The debut of Rocco Commisso, Fiorentina's new chairman, was cheered by thirty thousand people at the Stadio Artemio Franchi in Florence, during a wonderful match which kept the spectators waiting in baited breath for the whole 90 minutes from Vlahovic's kick-off, Fiorentina's center forward, to the final whistle.
"I'd hate to think of the renewed risk of discriminatory chanting. Still I hope that the situation in Italy has improved in comparison with last years," said Mario Balotelli just a few days ago. The Italian center forward, who has returned to Brescia, his hometown, seeking redemption, has been the symbol of this ever present issue for years. Like Koulibaly, Muntari and Zoro, he has been one of the major targets of contempt and ignorance coming from single individuals and organised group, who are more numerous than some people think.
This scourge comes in different forms; fans urging for Vesuvius to "wash away" a city in fire, howling at black footballers, or displaying neo-fascist and neo-Nazi symbols in their stand. It must be eradicated as soon as possible.
These first glimpses of Italian football point out the universality of such an alarming phenomenon.
One of most heated discussions has recently been about the racist insults directed at Paul Pogba, Manchester United's star, "guilty" for having missed an extra goal. Furthermore, the illustrious football team of the Glasgow Rangers has been recently sanctioned by UEFA for its fans' display of hatred and a series of anti-Semitic chanting and slurs have been reported during a D-3 match in Germany.
However, very few football teams in Europe seem to have the same determination as Chelsea, which by far is the only famous football club to have banned a fan for life because of his "racially offensive language and threatening, aggressive behavior". Even so, the court has decided not to take legal action. In these circumstances, Chelsea's policy is the renowned zero-tolerance.
"Chelsea abhors all kinds of discrimination and will continue to take a zero-tolerance approach in respect of racist incidents."
In Italy, with the exception of the big-league team Napoli, which opened a UEFA forum for young people on this topic a few years ago, there has been much talk and few results. We all hope that Pogba's last message posted on social media will leave a mark. "My ancestors and my parents have fought to free my generation, give it the right to work, take the bus and play football," wrote the French top player, "Racist slurs represent ignorance and do nothing but make me stronger and motivated in fighting for generations to come."

Translated by Mattia Stefani and revised by Sara Facelli, students at the Advanced School for Interpreting and Translation of Trieste University and interns at the newspaper office of the Union of the Italian Jewish Communities.