NEWS Major sports and soccer figures gather at UCEI to kick racism out of Italian stadiums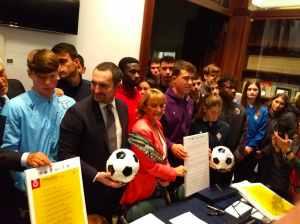 By Adam Smulevich
The leaders of Italian sport and soccer have joined the Union of Italian Jewish Communities (UCEI) to kick racism and antisemitism out of Italian stadiums.
The issue was addressed during an event attended, together with UCEI President Noemi Di Segni who organized it, by Minister of Sports Vincenzo Spadafora, President of the Italian Football Association Gabriele Gravina, President of the Italian Football Player Association Damiano Tommasi, CEO of the Lega Calcio Serie A Luigi De Siervo and Lega Pro soccer President Francesco Ghirelli. The event was introduced by journalist Paola Severini Melograni.
At the center of the initiative, which received wide coverage by all major Italian media, were the latest episodes of intolerance that have brought the problem of racism in Italian football in the spotlight, but also what the institutions are doing to tackle the issue.
In this sense, new measures have been announced that will favor the identification of fans responsible for racist actions.
"The UCEI did very well in organizing this meeting, because as I have been saying since I took office, we must put in place very concrete tools, not only when chants and serious episodes have happened, since I took office," Spadafora said.
Many representatives of professional clubs attended the event, including Juventus, Inter, Lazio, Milan, Napoli, Roma and Fiorentina. Among those who took the floor were vice-president of Inter Javier Zanetti, president of Lazio Claudio Lotito and vice-president of Coni Alessandra Sensini.
To strengthen the commitment, those attending also signed the "Manifesto of non-hostile communication for sports" created by the Association Parole O_Stili which was represented by founder Rosy Russo, who also briefly exposed the mission of the association and the Manifesto.