NEWS Israel Ambassador Eydar presents his credentials to Italian President Mattarella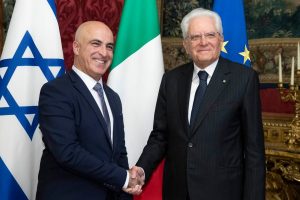 By Pagine Ebraiche staff
Dror Eydar, the new Israel Ambassador to Italy, presented his credentials to the President of Italy Sergio Mattarella during a ceremony at the Quirinal Palace on September 25. "President Mattarella welcomed me warmly and talked to me longer than usual, especially about the Holocaust and the fight against tyrannies", the new ambassador posted on his social media in Hebrew.
"I spoke to him about the ceremony earlier that day (the awarding of the medals of "Righteous Among the Nations" to families Cencelli and Gessini, Editor's Note) and about the conference on cyber-technologies," he further wrote.
In his short report, Eydar added that it was a long conversation dealing with different topics, among which were cooperation in the fields of space and high-tech and the historical bond between Rome and Jerusalem. Eydar quoted the opening lines of the book Rome and Jerusalem: The Last National Question (1862), where the author, Zionist prophet Moses Hess, underlines that "with the liberation of the Eternal City on the banks of the Tiber, begins the liberation of the Eternal City on the Moriah; with the renaissance of Italy heralds the rise of Judah".
Eydar honored his parents Samuel and Esther Cohen, who made Aliyah when the State of Israel was founded. "They taught me to value an independent Jewish State, which should not be taken for granted".
"President Mattarella claimed that a similar background motivates us to do great things", the Ambassador continued. "He then recalled a chapter of the Bible he had recently read concerning the Edict of Cyrus, which authorized the Jews to relocate to the Land of Israel and restore their kingdom. I told him it can be found in the first chapter of the book of Ezra, which is somehow the equivalent of the Balfour Declaration of 1917."
The meeting pointed out "the excellent relationship between Italy and Israel", Israeli embassy underlined.
(Picture by Francesco Ammendola – Office for Press and Communication of the Presidency of the Italian Republic)
Translated by Claudia Azzalini and revised by Sara Facelli, students at the Advanced School of Modern Languages for Interpreting and Translation of Trieste University and interns at the newspaper office of the Union of the Italian Jewish Communities.