NEWS New Israeli ambassador to Italy presents his credentials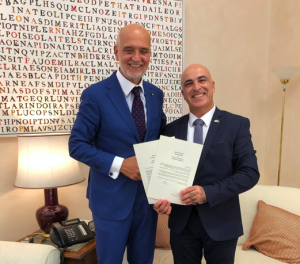 By Pagine Ebraiche staff
Dror Eydar, new Israeli ambassador to Rome, has recently taken office.
The new representative of the Jewish state in Italy, who is 52 years old and has been a columnist for the newspaper Israel Hayom since 2007, has presented his credentials to Ambassador Inigo Lambertini, head of the Diplomatic Protocol at the Italian Republic at the Ministry of Foreign Affairs and International Cooperation.
This gesture is preparatory to the official ceremony which will soon take place at the Quirinale Palace, where President Sergio Mattarella will receive Eydar's credentials.
Eydar was appointed by Israeli Prime Minister Benjamin Netanyahu exactly a year ago.
He said then, "as a history and literature scholar, the privilege of representing Israel in Rome, with the whole diplomatic, national and religious heritage that has been bonding the two nations for thousands of years, takes on a special meaning. Just as I did as a journalist and in other roles in Israel and around the world, I will do my best to devote all my energies and knowledge on representing Israel faithfully and courageously."
On his first day as ambassador, Eydar visited the Colosseum and stopped by the Arch of Titus.
The ambassador commented, "we went from Jerusalem to Rome and from Rome we went back home to Zion to forge an independent state," upon arriving in Italy a few days after the end of his predecessor Ofer Sachs's mandate.
Translated by Mattia Stefani and revised by Claudia Azzalini, both students at the Advanced School for Interpreting and Translation of Trieste University and interns at the newspaper office of the Union of the Italian Jewish Communities.