NEWS Israeli Ambassador to Rome expresses solidarity to Italy over Coronavirus crisis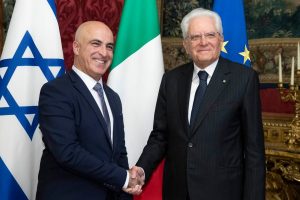 By Pagine Ebraiche staff
Israeli Ambassador to Rome Dror Eydar expressed his solidarity towards Italy and the Italian people over the Coronavirus crisis. In a letter sent to the Union of the Italian Jewish Community, Eydar also explained the measures taken by the Israeli government to limit the access to the country to people travelling from Italy.
"A warm shalom to all Jewish communities in Italy. We at the Embassy of Israel care about your wellbeing and keep you in our thoughts. You are always in our heart. We have not left Italy. We are always with you," he said.
"This is a time of crisis. The whole world is in trouble, not just Italy. But it is a temporary crisis and with the help of G-d we will overcome it," he added.
Eydar highlighted that Israel has blocked the entry of anyone who has stayed in Italy in the last few weeks, and not just Italian citizens.
"It should be remembered that Israel is as large as Lombardy and most of the population lives in the center of the country. The risk of contagion is therefore very high. In addition, the latest cases of coronavirus discovered in the country came from Italy," he pointed out. "The population feels pressured and worried about what is happening. People cannot be reassured only with words, but facts are also needed. There is a committee that supports the Prime Minister, made up of experts in all fields, who evaluate national risks and suggest how to act accordingly."
The ambassador reassured the Jewish Communities that Israel is not giving up on its responsibility towards the Jewish communities.
"The State of Israel is always committed to your security and limitations will be lifted as soon as possible," he said.
"Purim is just around the corner and reminds us of difficult situations in our history, much more than today. We have successfully dealt with these difficulties and come out stronger," Eydrar concluded.