NEWS Auschwitz survivor Alberto Sed passes away at 90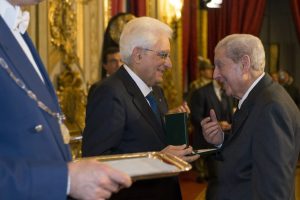 By Pagine Ebraiche staff
Shoah witness Alberto Sed passed away at 90 in Rome on Saturday.
Son of Pacifico Sed and Enrica Calò, Alberto was born in Rome on December 7, 1928. He escaped the Nazi round-up of October 16, 1943, but he was later arrested along with his mother and sisters in May 1944, sent to Fossoli and then deported to Auschwitz-Birkenau.
Only Alberto and Fatina, a victim of the infamous Mengele's experiments, survived and returned to Rome.
"Talking to kids is my revenge on evil," he would often say in his tireless activity to bear testimony of what he saw to the new generations, to whom he always conveyed a message of life and hope.
"Many of them, who would often fight over trivial things like a cell phone, suddenly understand the value of life and that fighting over nonsense does not make sense," he explained.
"I love children immensely, but I could never pick one up. If only I think of the gesture, I am overcome by the fear that someone will shout at me to throw it in the air," Sed painfully confessed in his biography, "I was a number," written by Roberto Riccardi.
His story, however, is one of a man who never gave in to evil.
"All you see in this room is the demonstration of my revenge, my redemption for the atrocities suffered by my sister and me. There was so much pain, but today it was finally overwhelmed by the love that all of you are showing me," he once told a journalist visiting him at home.
Alberto Sed's funeral took place on Sunday at the Prima Porta cemetery in Rome.
Condolences for his death were expressed within the Jewish world and in all Italian society.
"With Alberto Sed – said Noemi Di Segni, President of the Union of Italian Jewish Communities – an unshakable voice of Remembrance has left us. He was a witness of the horrors of the twentieth century that, without respite, putting forward all his passionate civil commitment, dedicated himself to the encounter with the new generations."
"His message of life, hope and awareness is the greatest gift that Alberto Sed has given over the years," continued Di Segni. "Thank you, Alberto, thank you for everything. May your memory be a blessing."
"His death represents an immense pain for the whole community," commented Ruth Dureghello, president of the Jewish Community of Rome. "An even more painful loss in these dark times when anti-Semitic hatred is reappearing "
Among others, also the mayor of Rome Virginia Raggi and the governor of the Lazio region Nicola Zingaretti honored Sed's memory.