NEWS Auschwitz survivor Piero Terracina passes away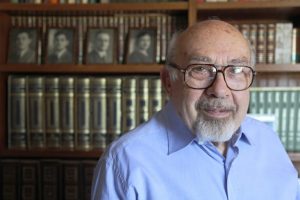 By Adam Smulevich
Piero Terracina, one of the last Italian Holocaust survivors, passed away at the age of 91.
Deported teenager to Auschwitz, he was the only one in his family who survived.
Like many other survivors, he did not talk about his experience for a long time. Later in life, he decided to speak mainly to address young people, to whom he devoted himself with all his energy in many meetings, initiatives and conferences.
Terracina was born in 1928 in Rome. He returned home after a long, difficult journey. Not all the things were like he expected. Terracina stressed: "On my return to Rome from Auschwitz, alone and desperate, I found indifference. The indifference of people and institutions. An indifference that still weighs on our country".
Italian President of the Republic Sergio Mattarella described him as a "tireless witness to the memory of the Holocaust" in a statement he released shortly after his death.
Many other institutional representatives expressed their condolences and their gratitude, among others, Italian Prime Minister Giuseppe Conte, the President of the European Parliament David Sassoli, the European Commissioner Paolo Gentiloni.
The President of the Union of Italian Jewish Communities Noemi Di Segni spoke of Terracina as "a light in dark times when words of hatred and denial are returning to poison society".
The President of the Jewish Community of Rome, Ruth Dureghello said that "we have to transform pain into strength and not allow deniers to resurrect anti-Semitic hatred".
Life senator Liliana Segre, also a survivor of Auschwitz, told Pagine Ebraiche: "I was bound to Piero Terracina by a silent brotherhood, we didn't need words between us. And now that he has gone, I feel even more alone".