FEATURES Piero Terracina Turns 90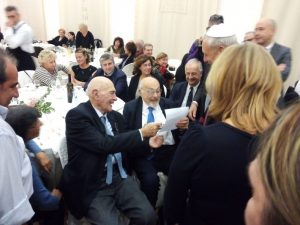 By Pagine Ebraiche staff
Piero Terracina turned 90. He was born on November 12, 1928 in Rome and survived the Shoah. The present given to him by the Union of Italian Jewish Communities is a Chanukkia, the symbol of the upcoming Festival of lights, that embodies values such as the fight of light against darkness, hope against obscurity.
The family wanted to pay tribute to an entire life serving historical truth with many friends who came to the Jewish Centre Il Pitigliani to celebrate this important achievement with Piero and his loved ones. One for all, taking part in the event was Sami Modiamo, who shared with Terracina the terrible experience in Auschwitz and the consequent journey of working through it, and finding the courage of bearing witness for the benefit of new generations. A hug between the two survivors opened a joyful night, full of songs and music. The celebration ended with the traditional cutting of the cake.
Many people paid their respects. "Piero Terracina is 90 years old! He survived the horrors of Shoah and has been a tireless witness, especially in schools and among youngsters. Mazal Tov, ad meah veesrim (may you live till 120 years)" is the message sent by the Jewish community in Rome.
Congratulations came also from Aned (the Italian National Association for Former Deportees), which Terracina has joined for a long time and which expresses its pride having had him "as a friend and fellow in a thousand meetings".
Translated by Rachele Ferin, student at the Advanced School for Interpreters and Translators of Trieste University, intern at the newsroom of the Union of the Italian Jewish Communities.