EVENTS 2020 'Run for Mem' to take place in Livorno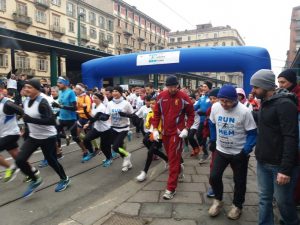 By Pagine Ebraiche staff
Ahead of the Holocaust Remembrance Day, the event "Run for Mem" is gearing up for its forth edition.
The non-competitive race aims to remember "the dramatic events of the Holocaust and the Second World War, while transmitting a message of hope, conveyed by the positive values of a day dedicated to sport shared with all citizens".
The 2020 edition is going to take on Sunday, January 26 in Livorno (Leghorn), as usual organized by the Union of Italian Jewish Communities (UCEI) and the local Jewish Community.
The route will cover about seven kilometers departing from the Benamozegh square, in front of the synagogue. The Honorary guest once again will be Israeli Olympic runner Shaul Ladany, who survived the Nazi camp of Bergen Belsen and the Palestinian attack in Munich '72. Alongside Ladany, two Italian athletes who won a gold medal in fencing in Munich, Rolando Rigoli and Mario Aldo Montano, will attend and share their memories. Italian hurdler Fabrizio Mori will also be a special guest at the event.
Those who are interested in participating, can sign up to the Run for Mem for free on the UCEI website.
The event, which is organized in collaboration with the Ministry of Education, University and Research and with the support of the AME – Jewish Medical Association, can count on the sponsorships of Tuscany Region, Municipality of Livorno, Province of Livorno, Prefecture of Livorno, ANED, ANPI, ANNPIA, Naval Academy of Livorno, Shoah Museum Foundation of Rome, Diocese of Livorno, Livorno Foundation, Coni Livorno, Uisp Sport, Ports Alto Tirreno, Community of Sant'Egidio, SVS Public Assistance, Women's Center Livorno, Amaranta Servizi, and Sochnut Italy.