"Jews in Europe at the turn of the Millennium" Highlights in a new report by JPR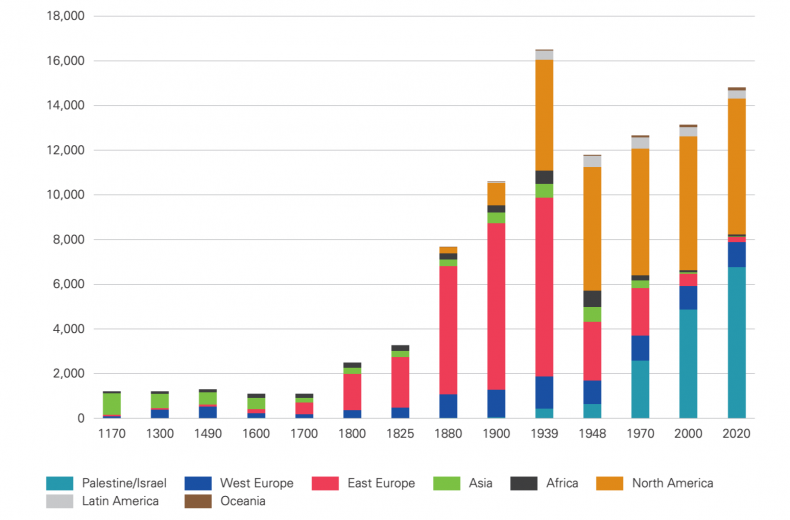 From the 1970s Western Europe lost 8.5% of its Jewish population. It is a constant and relentless trend, which must start a wider reflection upon the future of European Jewry, especially since it goes together with the opposite tendency of an increasing number of people reclaiming their Jewish identity.
Both aspects are the focus of the new report by the Institute for Jewish Policy Research titled "Jews in Europe at the turn of the Millennium: Population trends and estimates". Written by leading Jewish demographers Professor Sergio Della Pergola and Dr Daniel Staetsky, the Chair and Director of JPR's European Jewish Demography Unit respectively, the research explores how the European Jewish population has ebbed and flowed over time. The main issue, as explained to Pagine Ebraiche Sergio Della Pergola, is not as much the decrease of the Jewish presence as the complexity of the phenomenon and the underlying processes.
Although not focusing on Jewish identity, the report provides interesting data about how it is perceived in different European countries. "As shown in one of the first tables, – said Della Pergola – some Jews relate it mainly to religion, for other it is about ethnicity or culture. So, differences are really huge".
The report begins as far back as the twelfth century, travelling through many years of population stability, until the tremendous growth of the nineteenth and early twentieth centuries, followed by the dramatic decline prompted by a combination of mass migration and the horrors of the Shoah. Extraordinarily, after all this time, the proportion of world Jewry living in Europe today is almost identical to the proportion living in Europe 900 years ago.
In actual numbers, reads the report, the estimate is that on 1 January 2020, 1,329,400 Jews lived in Europe. The Core Jewish population distribution by major areas was 59% in the EU 27; 16% in the FSU European republics (excluding the Baltics); and 25% in other European countries, of whom 22% are in the UK. The 1,329,400 core Jews constituted 1.60 per 1000 of Europe's total population, or one in 626 inhabitants.
Using multiple definitions of Jewishness and a vast array of sources to determine the size of the contemporary population, the study proceeds to measure it in multiple ways, looking at the major blocs of the European Union and the European countries of the Former Soviet Union, as well as providing country-by-country analyses, ranging from major centers such as France, the UK, Germany and Hungary, to tiny territories such as Gibraltar, Monaco and even the Holy See.