The great catalogue of Jewish Italy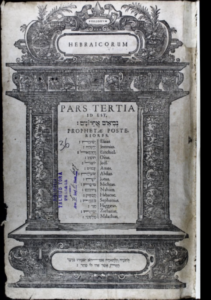 This past summer, after an initial testing phase, the digital census project of about 35 thousand volumes on a Jewish theme "Y-TAL-YA Books" officially began. The project is the result of a collaboration between the Union of the Italian Jewish Communities – the body at the head of the initiative – the National Central Library of Rome, the National Library of Israel and the Rothschild Foundation. The aim is to create a bilingual database, in Italian and Hebrew, which allows us to cover the entire span from the origins of printing to the 1960s.
Object of the survey are fourteen Jewish communities and twenty-five state institutions. The project is moving forward quickly, despite the difficulties of a pandemic year that inevitably affected the timetable. 2000 volumes have already been uploaded on "Teca", the portal of the National Central Library of Rome, and another 1000 are ready to be added. Approximately every two months we will proceed with a further update.
On September 26th, on the occasion of the Jewish Book Festival, organized by the National Museum of Judaism and the Shoah (Meis) in Ferrara, there will be a great event to present the results achieved so far by Y-TAL-YA Books and prospects for the future. An event available in Italian and English, which will be visible on the social platforms of UCEI, Meis and the Israeli Library. On the website it is possible to consult the cataloged material: a useful tool for scholars, but also for those who want to discover the extent of the project.
The UCEI Bibliographic Centre, the Artom library in Turin, Genoa's library, the Ferrara Fund and the books printed in the 16th century (the so-called cinquecentine) of the Florence Fund: all these show the impact of an initiative that helps to discover the past of Italian Judaism and its deep roots in this country's cultural history. You can thus immerse yourself in pages going from the fifteenth century to the mid-twentieth century, leaf through the comments of the rabbis on the texts of the tradition, but also discover where and who had the opportunity to print these volumes.
(Above, one of the texts already available on the website of the National Central Library of Rome – Biblioteca nazionale centrale di Roma).