Germany honours Holocaust survivor Liliana Segre: "Extraordinary commitment against hatred"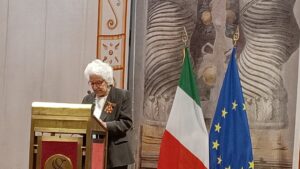 "I am very honored but also deeply impressed. It is an opportunity to meditate on my long and painful path of reconciliation with Germany". So Senator for life and Holocaust survivor Liliana Segre welcomed the Order of Merit of the Federal Republic of Germany on behalf of the German government, which she was presented last week by the German ambassador Viktor Elbling. The honor was conferred on her by the President Frank Walter Steinmeier for her commitment to remember the Shoah and her tireless fight against hatred and intolerance. The award was an opportunity for Liliana Segre to reflect on the past, the present, and the work put in by Germany to deal with its history.
"I can still see the historic gesture of Chancellor Willy Brandt, who in 1970 in the general surprise knelt in Warsaw in front over the war memorial dedicated to the fallen of the Ghetto. I think back to the thousands of German intellectuals and teachers who, over the decades, rebelling against the previous oblivion, have done an extraordinary job so that the new generations, born after the war, would come to terms with the nation's past, with a commitment that is an example for many European countries, including Italy".
The Senator remarked on the role of President Steinmeier and Chancellor Merkel, "who today wisely lead Germany as a bulwark of democracy and a messenger of peace in the world". She also turned her thoughts to the President Ursula von der Leyen "whom I had the pleasure of personally meeting – a champion of an ever more united and supportive Europe, against nationalisms and obscurantisms" and thanked "my friends Elisabetta Alberti Casellati, president of the Senate, and Noemi Di Segni, president of the Union of the Italian Jewish Communities, who wanted to be by my side in a day like this for me particular and full of meanings". She dedicated the honor to the memory of her loved ones lost in the Shoah, the father Alberto, Olga and Giuseppe Segre.