UCEI enters a new season Noemi Di Segni confirmed as President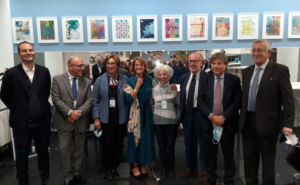 The newly elected Council of the Union of the Italian Jewish Communities meeting on Sunday in Rome has confirmed Noemi Di Segni as President of the highest national Jewish assembly. At the helm of the UCEI since 2016, Di Segni, 51, is specialized in EU professional law and is responsible for the secretariat of the presidency of the National Council of Accountants.
She will be joined in the board by Milo Hasbani (Milan), vice president with responsibility for Social Affairs and Kasherut; Giulio Disegni (Turin), vice president with responsibility for Legal affairs, administration, Relations with the South; Davide Romanin Jacur (Padua) for Budget, Otto per mille and Internal organization; Sara Cividalli (Florence), delegate to the liaison between UCEI projects and community projects and support for small and medium-sized communities; Simone Mortara (Milan) to the Youth; Livia Ottolenghi (Rome), to Education, Schools, Talmudes Torah, Educational Projects and Memory; David Jona Falco (Rome) to Communication coordination and Otto per mille campaign; Rabbi Giuseppe Momigliano (Genoa) delegate to cultural questions, Kasherut, and Rabbinical formation.
President Di Segni also designated in addition to the board the Councilors Gloria Arbib (Rome), Roberto Jarach (Milan), Guido Coen (Rome), Gadi Schoenheit (Milan), and David Menasci (Bologna).
Noemi Di Segni's commitment to the Jewish cause has always been strong. A current member of the executive committee of the World Jewish Congress, under the presidency of Renzo Gattegna, she was UCEI Councilor for the Budget and Otto per Mille (the 8/1000 tax devolved to a religious denomination recognized by Italy or to a state-run social assistance scheme).
Asking for Council's trust (which voted her with 63 percent of the votes, that represents about two-thirds of the Councilors), she said: "It is not only me who is running today but an entire team that has worked together and intends to continue a work based above all on the commitment in favor of the body that represents us all". Only by working together and sharing the diversity of ideas within the frame of a common project, she pointed out, "we will be useful to our co-religionists, to the Communities, to the State of Israel and to civil society that counts on the Jewish contribution to grow and mature".
The first item on the agenda of the session was the election of the three members of the Italian Rabbinical Assembly: Rabbi Ariel Di Porto, Rav Giuseppe Momigliano, and Rav Daniel Touitou were elected.
Above, the newly elected board of Union of the Italian Jewish Communities. From left, Simone Mortara, David Jona Falco, Livia Ottolenghi, Noemi Di Segni, Sara Cividalli, Giulio Disegni, Milo Hasbani, and David Romanin Jacur.