Lighting Hanukkah candles from Rome to Milan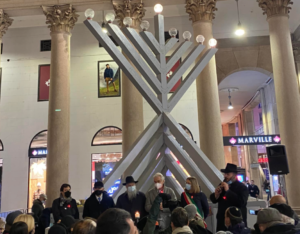 Hanukkah lights went on again in many Italian squares. For the 34th consecutive year in Rome one of the most significant scenarios was Piazza Barberini, where the great Hanukkah lamp has been located for a few hours and illuminated, as of 1987, on the initiative of the Chabad Lubavitch movement and in particular of the Hazan family. The mayor of Rome Roberto Gualtieri, the president of the Jewish community of Rome Ruth Dureghello, and the Chief Rabbi Riccardo Di Segni took part to the ceremony.
The mayor praised the commitment of the Hazan family and the great social and cultural role played, in over two millennia of presence, by Roman Jews. "The Jewish community is perhaps the most Roman of the components of the city. At the same time, it is endowed with an international projection that enriches us all", his reflection on the matter. The mayor also exalted the meaning of a festivity that demonstrates that "defending one's identity is compatible with openness and dialogue".
It was precisely on the occasion of the events celebrated at Hanukkah, Dureghello recalled, that the Maccabees chose to address the Senate with a request for help. It was the beginning of a secular relation. "Since then – her message – Rome and Israel have been inextricably linked". Hanukkah celebrates light and awareness, pointed out Rabbi Di Segni: "we are here to remind ourselves of who we are and to defend our values against anyone who wants to cancel them". Hanukkah candle-lighting events took place also in Piazza San Carlo in Milan and in the synagogues of Florence, Turin, and Livorno.
Above, the candle-lighting event in Piazza San Carlo in Milan.