NEWS Italian National Institute Pays Tribute to Jewish Manager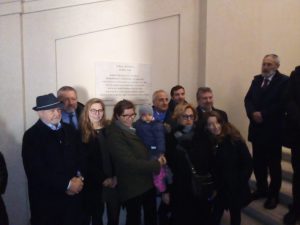 By Pagine Ebraiche staff
The Istituto Nazionale per l'Assicurazione contro gli Infortuni sul Lavoro e le malattie professionali or INAIL (National Institute for Insurance against Workplace Accidents and Occupational Diseases) paid tribute to Also Fuà, a manager who was dismissed after the promulgation of anti-Jewish Laws in 1938.
After many decades, Fuà will be remembered with a commemorative plaque at the entrance of the INAIL Tower.
"It was a long process that has finally come to a conclusion. It is an important message of remembrance," commented INAIL president Massimo De Felice.
"In 1880 Luigi Luzzatti who was Jewish had the intuition to establish the INAIL. In 1932, Guido Zevi, a Jewish engineer, was given the task of rebuilding the palace after a demolition. In 1938, Aldo Fuà, an INAIL Jewish manager was forced out of his position after the anti-Jewish Laws. In 2018 there is a plaque to commemorate him. I owed it to my grandfather," commented Fuà's grandson Dario Coen.
Attending the ceremony were among others, the president of the Union of the Italian Jewish Communities Noemi Di Segni, the president of the Jewish Community of Rome Ruth Dureghello and the chief rabbi Riccardo Di Segni.