UCEI commitment for refugees "Solidarity is a Jewish duty"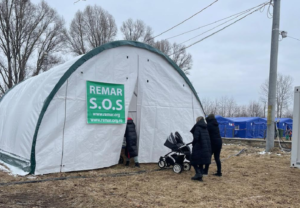 A young couple in their thirties with their three children will arrive in Italy on Wednesday from Bucharest and, they say, "can't wait to be here". They are the first beneficiaries of the solidarity action coordinated by the Union of the Italian Jewish Communities in favor of Ukrainian refugees. From Wednesday, waiting for better times their home will be in Rome, where they will reside in an apartment made available by the Jewish Center Il Pitigliani. Other families could reach soon the capital and other cities where Jewish communities and institutions operate. "The watchword is solidarity. We are taking action in many ways, soliciting the maximum commitment from everyone", explains Milo Hasbani, UCEI Vice president and councilor for social affairs.
Many initiatives and possibilities are now considered, involving also organizations that do not belongs to the Jewish world but with which a fruitful collaboration has been in place. Among them, as Hasbani remarked, the City Angels, with whom many campaigns were carried out. The last one in front of the Memorial of the Shoah in Milan, aimed at supporting Afghan refugees and the homeless.
"Contacts are underway to do something also in Rome", anticipates the councilor. Close contacts also with some organizations in action near the Ukrainian border such as Progetto Arca (Ark Project), partner of the latest Run for Mem, which together with the Remar Association has set up a tent equipped for the first reception in the Romanian town of Siret.
Fifty, potentially, the people who could reach Italy from there. The challenge, continues Hasbani, will be not so much the organization of the trip "as everything that concerns the welcome and our ability to make ourselves available to meet the different needs that arise". In this perspective, the experience of the UCEI, the communities, and other organizations that have come into play has significantly increased thanks to some recent initiatives. Among others, "the welcoming of a family fleeing Syria to Milan".
Among the communities that have been activated, there is also that of Florence. Some families should have arrived in the city in the next few days but for now preferred to stay in Romania, thus remaining closer to their country of origin. They hope to be able to return soon, in a very different context than the current one.
Above, the tent set up in Siret, Romania by Progetto Arca and the Remar association.