A new website for students and teachers to learn about anti-Jewish persecution in Italy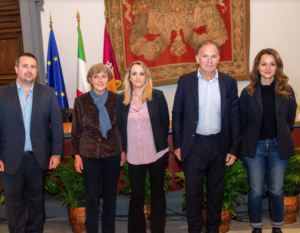 A new website by the Museum of the Shoah Foundation in Rome was launched last week. Titled www.studiarelashoah.it, it is aimed at teachers and students of first and second grade secondary schools and illustrates "the historical roots and evolution of the anti-Jewish persecution in Italy". Presented at the Sala della Protomoteca in Campidoglio in the presence of UCEI School and Work councilor Claudia Pratelli and President of the Shoah Museum Foundation Mario Venezia, the website is the result of the work of historians Amedeo Osti Guerrazzi, Isabella Insolvibile and Marco Caviglia, with the support of Roma Capitale.
This initiative, it was remarked, renews a commitment "to carry forward historical memory, with an eye to young people". To reach them, explained Venezia, the site "provides contents necessary to work in classrooms and stimulate curiosity and desire to learn more". There are five main thematic sections, each of which declined in different chapters, accompanied by texts, images, thematic maps and links to multimedia contents with a biographical analysis on persecutors, victims, political figures.
It is a narrative path that "connects places, events, testimonies and documents, History and Memory".
Above, the presentation of the project in Rome (Ph. Micol Funaro)