Pesach, UCEI commitment not to leave anybody behind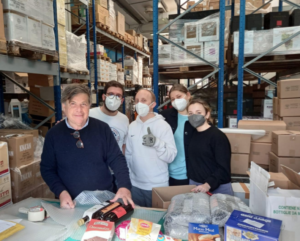 To make sure that nobody is left behind even for those with less chance to be able to celebrate the upcoming Pesach holiday in the best possible way, about 240 food packages were prepared last week under the auspices of the Union of the Italian Jewish Communities. The initiative, remarks UCEI Vice-president and councilor for social affairs, carries on what was realized in the past by former UCEI councilor Jacqueline Fellus. "In agreement with the councilor for religious affairs Rabbi Giuseppe Momigliano – he says – the parcels will be distributed to Jewish Communities, which will have them delivered by volunteers and social workers to families and people".
Every package includes eleven different products, along with a letter of good wishes. Hasbani's thanks "the young people of Hashomer Hatzair, who contributed to the preparation of the packages, as well as Elio Galante and Davide Hazan for supplying the products in a time of great shortages and delays in deliveries".
Above, from left UCEI Vice-president Milo Hasbani with a group of volunteers.