Rome, commemorating Libyan Jews memory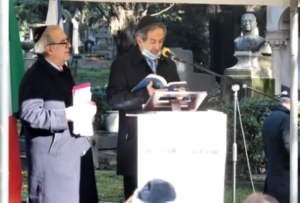 On Yom haShoah ve haGevurah, the day "of the Shoah and heroism" established by Israel in 1959, many events will take place in Italian Jewry. In particular, in Rome, the day of April 28 will be marked by an absolute novelty: a commemoration entirely dedicated to the Jews of Libya who were persecuted by Nazism and Fascism and lost their lives "in Giado, Sidi Azaz, Buerat El Hsum , Buq Buq, Auschwitz, Reichenau, and Bergen Belsen". It is the first event of this kind "ever organized in Europe", points out David Gerbi, who organizes the event through the association ASTREL which he presides.
At the opening ceremony, a remarkable witness is expected to speak: 94-year-old Allegra Guetta Naim, who survived Giado as a child. She still carries in her eyes the horror of that camp with "corpses transported by wheelbarrows, corpses piled up left and right in the hospital". Hers are deep wounds of the soul which she was able to overcome without ever losing her course. Her testifying is a powerful reminder that despite everything "life goes on" and fighting for a goal may lead to "a life full of love".
Numerous rabbinical testimonies are expected at the ceremony, which will be held in one of the synagogues of reference of Libyan Jews in the capital: among others, Gerbi announced, President of the Italian Rabbinical Assembly Rabbi Alfonso Arbib, the Chief Rabbi of Rome Riccardo Di Segni, Rabbi Roberto Colombo, Rabbi Benedetto Carucci Viterbi, Rabbi Itzhak Hazan, Rabbi Yonathan Fisher, Rabbi Shimon Zalmen Springer, and Rabbi Ilan Roy.
ASTREL also anticipated the participation of the President of the Roman Jewish community Ruth Dureghello, UCEI Councilor Saul Meghnagi, President of Beth Shmuel Elia Lillo Naman, ambassador Giulio Terzi di Sant'Agata, parliamentarian Emanuele Fiano, and Giuseppe Benedetto (Fondazione Einaudi). The students of the Jewish school will participate reading the names of Libyan victims of the Holocaust.