From Israel to Italy, portraits of daily grind by the artist Asaf Hanuka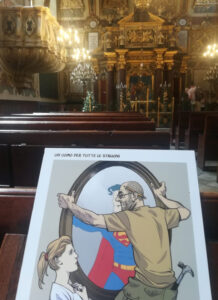 On the occasion of CasaleComics&Games, the Jewish community in Casale Monferrato (Piedmont, Italy), hosts an exhibition dedicated to one of the internationally most renowned Israeli cartoonists: Asaf Hanuka. Forty panels will be shown in cooperation with Bao Publishing and mON (the organizer of Casale Comics). The exhibition, curated by the journalist Ada Treves and open until July 3, is entitled "Diario di un Realista" and retraces the themes of the award-winning autobiographical comics by Asaf Hanuka, published in Italian by Bao Publishing in three volumes under the title "KO a Tel Aviv". Born in 1974, Asaf Hanuka co-created with his twin brother Tomer Bipolar, a comic book series which was nominated for the Ignatz and the Eisner Awards. He contributed to the production of the Oscar nominated animation film Waltz with Bashir.
His award-winning autobiographical comics The Realist is published weekly in Calcalist – Israeli business magazine – and on his personal blog. In Italy, it was released by the publishing house Bao Publishing, and it has been entitled K.O. a Tel Aviv.
In 2015, together with his twin brother Tomer Hanuka and the writer Boaz Lavie, he illustrated The Divine, published in Italy by Bao Publishing. During the same year, he was awarded the Gran Giunigi Prize for "Best Author" at Lucca Comics & Games convention. In 2016 he was awarded the Eisner Award for "Best U.S. Edition of International Material".
In Italy in 2021 Bao Publishing published "Sono ancora vivo", in which Roberto Saviano tells about himself through Asaf Hanukas's illustrations. (English version "I'm still alive" 2022).
Above, a panel by Asaf Hanuka against the suggestive background of the synagogue of Casale Monferrato.