MOVIES Jewish Creativity at Venice Film Festival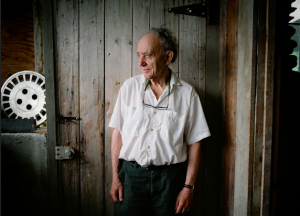 By Daniela Gross
For moviegoers the upcoming week will be crucial as next Wednesday (Aug. 27) the historic Venice Film Festival opens its competition presenting, until September 3, a superb selection of the best contemporary auteur cinema with 55 world premiers.
At one time the Venice Festival was, along the Cannes Festival, the main event in the world of cinema. Times have changed: for some time now a new geography of festivals has come on the scene and international competition has became much stronger. However, Venice still maintains its position of absolute international prestige. To be or not to be selected for this competition makes a profound difference for a filmmaker, from whatever country he or she comes from.
At Venice, also in this 71th edition, Israeli cinema is well represented as is Jewish creativity. First of all, it should be noted that the Golden Lion for Lifetime Achievement has been awarded to Frederick Wiseman, the American independent filmmaker. Since 1967 he has directed 41 films, 39 of them documentaries – dramatic, narrative films that seek to portray ordinary human experience in a wide variety of contemporary social institutions. His subjects have included a state hospital for the criminally insane, a high school, a welfare center, juvenile court, a boxing gym, ballet companies and many other themes. This year he is presenting his film, "National Gallery", filmed in this prestigious London museum.
The interest of Wiseman for institutions is deeply rooted in his life and specifically in the sense of exclusion he experienced in Boston during his childhood. "Anti-Semitism was everywhere, or so it felt to me as one who remembers listening to Hitler's speeches on the radio and the rants of Father Coughlin, a Roman Catholic priest who regularly raged against Jews on a Sunday morning radio program, broadcast nationwide", he recalled. In Boston, it was "almost impossible" for Jews to be hired by either prestigious law firms or local hospitals: "Most [Boston] Jews lived in their ghetto".
Going back to Israel, Orizzonti, the international competition dedicated to films that represent the latest aesthetic and expressive trends, features "Pat Lehem" (Daily Bread, 18') by Idan Hubel. This director – who already participated in the Venice Film Festival in 2012 with "Menatek HaMaim" (The Cut-Off Man), a melancholic tale set in a peripheral and poor Israel. This time he tells the story of a child who runs away from home because he was afraid of being punished for petty theft. When night comes, he is frightened and cold and wants to return home. There in the dark he sees a flare which attracts him and shows him how to understand his right place in the world. The film is based on a novel by Berdyczewsky (1865-1921) a popular journalist and scholar who wrote in Hebrew, Yiddish and German.
Out of competition Amos Gitai, one of the most beloved directors at the Venice Film Festival, presents "Tsili" (Israel, Russia, Italy, France, 88'). The movie, shot in Yiddish, is inspired by a novel of the Israeli writer Aharon Appelfeld and tells the story of Tsili, a young Jewish woman whose entire family was deported to the camps. Hiding in the forest she finds refuge in nature, as it happened to Appelfeld who, as a child, survived in this way during the Nazi persecution. When the war is over Tsili starts walking along with other people to look for a boat that will take them to another land. In her wandering Tsili gathers the force of intuition and vitality.
During Venice Days the directors Sharon Maymon ad Tal Granit present Mita Tova (The Farewell Party, Israel, Germany, 93'). It is the story of a group of friends at a Jerusalem retirement home who build a machine for self-euthanasia in order to help a terminally ill friend. When rumors of the machine begin to spread, more and more people ask for their help, and subsequently the friends are faced with an emotional dilemma.
Finally, the International Critic's Week features "Villa Touma" by Suha Arraf. This film talks about complex issues. Villa Touma tells the story of three aristocratic sisters from Ramallah who reject the reality of Israel and therefore live together secluded in their villa. The film was financed with Israeli public funds. But in the end the director chose to present her work as a Palestinian. In Israel this choice created a bitter controversy and thus the Minister of Culture asked to have the funds returned. At this time the movie is still registered as a Palestinian film.