MOVIES Arab Dancers Premiers at Locarno Film Festival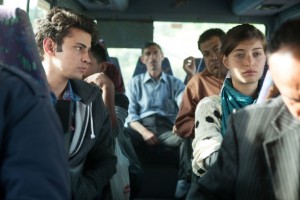 By Daniela Gross
It was supposed to preview at the Jerusalem Film Festival, in the mid-July. But the war's escalation persuaded the organization to postpone and finally to cancel the projection.
So, "Arab Dancers", the latest movie by Eran Riklis – the Israeli director already known and appreciated for "The Syrian Bride" (2004), "Lemon Tree" (2008) and "The Human Resources Director" (2010) had its' international premiere at Locarno instead. Here, in this Swiss-Italian town which has became the world capital of auteur cinema, every summer thousands of film fans and industry professionals meet to share their discoveries and their passion for the cinema thanks to a quality program able to mix diverse genres and showcase new talent.
The premiere of Eran Riklis' film had a warm and moving welcome with applause from the opening scene. And in some ways it seems a bit surprising particularly at this time in which violence continues to shake the Middle East.
"Arab Dancers" is based on two novels by Sayed Kashua, the Arab-Israeli journalist recently at the center of a bitter controversy. The film focuses on the issues of identity and the cohabitation between two peoples. It tells the story of Eyad, a young Arab born and raised in a little village who is sent to study in a prestigious boarding school in Jerusalem. It is not easy for him as he is the first and only Arab to be accepted at this school. Eyad has to integrate with his classmates and finally he befriends a boy with muscular dystrophy followed by his acceptance into this family. His acceptance seems to be complete when Eyad falls in love with Naomi, a Jewish girl. When their relationship is discovered Eyad's dream is shattered while at the same time he has to face the intricate questions of his identity.
"The lead character", said the director, "embodies the complexity of the Middle East but at the same time he is only a young boy who is trying to survive and decide what to make of himself".