Chieri, the historical synagogue for sale "Let's bring it back to public usage"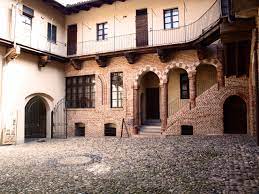 For almost a century, the synagogue of Chieri, a precious testimony of the Piedmonte baroque, has ceased its original function. Its ancient legacy is today transmitted in the spaces of Tempio Piccolo (Small Temple) of Turin, where the Tevah and the Aron Hakodesh moved there in the 1940s "seem reborn to communicate optimally with the surrounding environment".
The situation was recently recalled by the president of the Jewish community of Turin Dario Disegni during an event for the 50th anniversary of the Small Temple. Although deprived of its furnishings, the Chieri synagogue building remains a living sign of the Jewish presence in the area. It is a heritage not to be lost and a possible lever for developing cultural and educational project. Having learned of the owner's intention to sell the spaces, President Disegni chose thus to contact the municipal administration and the Piedmont Region "to form a consortium, or some similar initiative, to ensure that it will return a place of public use". An institutional table already started, and meetings will take place in the future.