MEDIA Pagine Ebraiche: Elections and Economics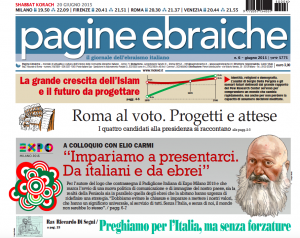 By Rachel Silvera
On June 14, the Jewish Community of Rome will go to the polls with four presidential candidates, three of them women. The June edition of Pagine Ebraiche offers a special preview with programs, goals and ideas of Ruth Dureghello (the leader of 'Per Israele' list), Maurizio Tagliacozzo (Menorah), Claudia Fellus (Binah) and Fiamma Nirenstein (Israele siamo noi).
Meanwhile, the Jewish community of Genoa already has a new president: Ariel Dello Strologo, a lawyer and well recognized public figure.
Among the dominant themes of the newspaper, a new look on Milano's Expo with a long interview with Elio Carmi, creator of the symbol of the Italian Pavilion, who talks and reflects not only about the value of the 'Made in Italy' but also on the image of the Jewish world. The fight against waste and inequality is also the theme of this month's special section, which is focused on the Trento Economics Festival (May 29-June 2) and has strong links to the Jewish concept of Tikkun Olam, repairing the world.
The pages are filled with ideas of the many protagonists of the festival: from the Nobel prize winners, Joseph Stiglitz and Paul Krugman, to Peter Singer and Michael Pollan as well as Andrea Segre, areal guru in the field. A different point of view is presented in the new book by the Vice-President of the Union of Italian Jewish Communities Giulio Disegni. The book is entitled "The Enterprise in Crisis," (Giappichelli Publisher).
A new reading of "The Capital" by Thomas Piketty is offered by the historian Giacomo Todeschini. Finally, the last pages focus on the strong commitment of women: the stories of Joyce Bigio, the new commissioner of the Jewish community of Milan, of the social housing action of Alice and Sara Gamba Funaro, of the researcher Micol Bellucci, who won the Unesco-L'Oréal prize for science, and of the unforgettable figure of Ruth Mosko, the creator of the Barbie doll.
Pagine Ebraiche also presents the answer of the chief rabbi of Rome, Riccardo Di Segni to the speech pronounced by the Grand Rabbi of France Haim Korsia at the Moked of Milano Marittima (the annual gathering of Italian Jewry). Rav Korsia has advocated for Italian Jews to restore the prayer for the State in which they live, following the French example.