MEDIA Summertime with DafDaf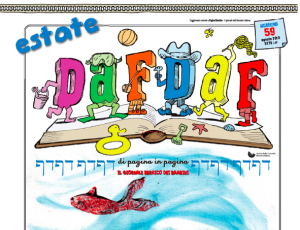 By Ada Treves
A cover as fresh as sea waters opens DafDaf, the third and last number of the summer series. The illustration, as usual by Luisa Valenti, has been thought out to give kids the possibility to complete the two white shapes, or to cut it out and use it for their non-homework notebook, as suggested in her column Strega Comanda Color, in the last page. And the Jewish magazine for kids could not possibly not talk about the word "censorship" – explained thanks to the Treccani Encyclopaedia for kids: "A great writer, whose name was Jorge Louis Borges, once said: 'I'll let the others boast about pages they have written; I am proud of what I read'. As you well know books are often the real protagonists, on DafDaf, and this month we decided to recommend a few that have been banned, along with many others, in Venice, for reasons we do not understand."
It is "Summertime" in the pages by Maria Teresa Milani, dedicated to the Jewish origins of one of the most famous songs of all times whose author, George Gershwin, was the son of a Jewish couple who left the poverty of their small shtetl in Ukraine to start a new life in Brooklyn, before the turning of the twentieth century. He grew up immersed in the traditions of Eastern European Jews that, according to the musicologists, are interwoven with the sounds of Afro-American music of the '20s and '30s, and in Summertime you can find an echo of ancient spiritual as well as those of two Yiddish lullabies. Such a fascinating mix has attracted many great artists, from Louis Armstrong to Ella Fitzgerald, Sarah Vaughan, and the many klezmer groups that have played with the melody and mixed Jewish and Russian canons. Without forgetting the Yiddish version by Roman Grinberg & Jerusalem Market, with Sveta Kundish.
This August issue of the Jewish magazine for kids inaugurates a new series by Nedelia Tedeschi, our morà Dafdafà, presenting objects or various things concerning Jewish life, many of which are in every home. And it begins with a welcoming mezuzah.
As always in the Summer, the pages are particularly playful, and this month DafDaf received an unexpected gift: Roberta Bridda, an Italian illustrator who lives and works in Barcelona, offered some of her beautiful characters, that she presented like this: "It is Summer, you're on the beach, and you have nothing to do… well, then you can look around, you'll see there is plenty of twigs, shells, tufts, pieces of wood, algae. Put them together with some fantasy and imagination. Summer is the season for dreams, idleness, imagination."
And imagination was the key to a project that was attended by some students of the Jewish school in Turin coordinated by the director of the Viewfest, Maria Elena Gutierrez, who invited the director Kris Pearn in Turin to make a short film on food security for the Expo.
Characters, sets, sound, music, everything was in the hands of the children, who have worked tirelessly for four days, with great enthusiasm.
Linked the Expo are also the economic pages that this month explain a few tricks not to waste food. And a character from the Torah appears in the last pages of DafDaf: creepy, slimy, with a forked tongue, the snake is the first animal Adam and Eve have to deal with. Because even by reading and playing with the "monsters", it is possible to learn something, even in this hot summer.