Double Life – Iran in Tel Aviv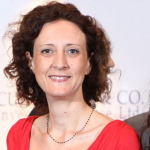 By Daniela Fubini*
Just over a week ago, a large number of Tel Aviv citizens and tourists who are able to read Hebrew were caught in the typical act of scratching the top of their heads, looking for answers to a very big question mark hovering on Kikar Rabin. Small groups took selfies, other people posted and tweeted pictures worldwide and made quickly viral the source of the confusion and amusement: a six floors tall, white based sign saying "soon opening: Embassy of Iran in Israel". In the Kikar, of all places. Chutzpa.
The phone number right under the oversized flags of Iran and Israel was absolutely tempting: to call or not to call? Well, I called, twice. "Salaam, you have reached the Iranian embassy in Tel Aviv. Unfortunately we cannot answer the phone right now, but your call is important to us, so please leave your name and number after the tone, and we'll get back to you." Twice, I hung up. And the theories started flowing: art installation, private initiative, new exhibition at the Tel Aviv Museum, political party beginning a new campaign against Bibi, Iranian refugees now long time Israelis being suddenly nostalgic. To me, the political angle was particularly likely, since the sign appeared days after the signing of the new big Iran agreement, and Bibi expressing all his dry disappointment to the world.
Turns out, it's a comedy. Not Bibi, he is real and present and not funny at all. The sign. The PR operation is aimed at preparing the public to a new Israeli comedy movie coming to theaters right before Rosh Hashana. So first of all chapeau to the creative. Turning Tel Aviv's favorite living room into the backyard of the new Iranian Embassy, even if for less than two weeks, shows the mind of an evil little genius. If in New York we used to say "location, location, location", here the blend of location, surprise and timing is delightful.
Then the topic, literally ticking as you read: "Atomic Falafel", the title of the movie. Judging by the trailer – but we never judge a film by the trailer, do we – the film is viciously funny. Expectations on the rise on the entertainment side, just as much an actual stability with Iran is less and less realistic. But as Kubrick taught us, we can learn how to stop worrying and love the Bomb. Because one thing is clear: the Bomb is not going away, not on screens and not in real life.
*Daniela Fubini (Twitter @d_fubini) lives and writes in Tel Aviv, where she arrived in 2008 from Turin via New York.