CULTURE A New Head for German Studies in Italy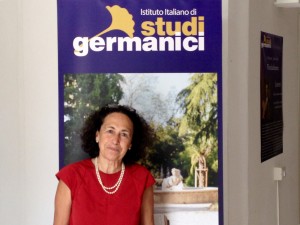 By Francesca Matalon
RRoberta Ascarelli, the newly appointed president of the Italian Institute of Germanic Studies, jokes about her "first day at school". She was just selected for the post by Minister of Education, University and Research Stefania Giannini to run one of the twelve research bodies in Italy, the only one related to humanities.
Ascarelli comes from a Jewish family from Rome, but her mother is German. She teaches German Literature at the University of Siena, and she has studied and worked also in Vienna, Toronto, Rochester, Harvard and Bonn. Philologist by training, she is an expert, among other things, in Ashkenazi and Yiddish literature. Ascarelli also teaches in the masters program in Jewish Studies of the Union of Italian Jewish Communities.
Her plan for the Institute of Germanic Studies is to "keep and broaden its international focus, and also the synthesis between modernity and tradition that makes it unique." The institute, she told Pagine Ebraiche, is "a cosmopolitan and Jewish trace in the heart of Rome, a place of culture and mediation."
Since 1931, the institute stands in the elegant building of Villa Sciarra. There is a Jewish story behind it: the Villa and the beautiful park surrounding it, today property of the Italian State, are the heritage of Henriette Wurts-Tower, widow of George Washington Wurts, an American diplomat with Jewish and Central European origins. When he died, Henriette left Villa Sciarra to the state provided that it would be open to the public and that become home of a center of study to strengthen the bonds between Italy and Germany.
This is how the Italian Institute of Germanic Studies was started, with its library of 80,000 volumes and, from 1935, a publication called "Studi Germanici". Today it finances the work of many young scholars. Ascarelli cares very much about this commitment, in order to avoid a brain drain from Italy. She also wants to promote, along with the work of philological research, debates and initiatives to open the doors of the Institute to the general public as well. "We will discuss the major topics relating to today's Germany," she said. "Because talking about Germany – she explained – means talking about Europe, and therefore about our future."