MEDIA Pagine Ebraiche, a Month for Heroes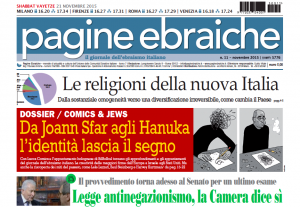 By Rachel Silvera
The new issue of Pagine Ebraiche features many heroes.
The special section, devoted to Comics & Jews is edited by Ada Treves. It introduces the readers to people like Joann Sfar, the cartoonist of "The Rabbi's Cat", but also Saul Steinberg, who lived in Bucharest, Milan and America. The paper then covers the story of Tomer and Asaf Hanuka, the Israeli writers who mix reality and fantasy.
Pagine Ebraiche shines a light on other heroes, like Diego De Henriquez, the mysterious man from Trieste who collected weapons and artifacts of war and who kept a record of the inscriptions inside the Italian death camp of Risiera di San Sabba. De Henriquez is the central figure of "Non luogo a procedere" (i.e. "nonsuit"), the latest book by Italian intellectual Claudio Magris, interviewed this month.
The writer and Shoah survivor Primo Levi is profiled in a book by Marco Belpoliti, "Primo Levi, di fronte e di profile," which is reviewed by Alberto Cavaglion and Claudio Vercelli.
The ultimate hero of the November issue is a girl, a doll actually, who likes to dress in pink: Barbie. Barbie is in the spotlight because of the new great exhibition in Milan "Barbie – The Icon."
Barbie was created fifty-six years ago by Ruth Handler, who was born in Denver but had Polish Jewish roots. Barbie is also the protagonist of "The Tribe", a documentary by Tiffany Shlain, which traces the history of the Jewish people along with the history of the doll.
Spain and Portugal have adopted their version of the Law of Return, which entitles the descendants of the Jews expelled from these countries at the end of the fifteenth century to be granted citizenship. Pagine Ebraiche interviewed Sephardic Jews and asked them what they think about it.
After the latest terrorist attacks, the focus is on Israel: the demographer Sergio Della Pergola analyzes the situation, Tom Segev reflects on the twentieth anniversary of the assassination of Prime Minister Yitzhak Rabin and Gerald Steinberg complains about the misinformation on what happens in the Middle East.
The last page is always devoted to sport. Lior Many, dietitian of sports champions, explains his secrets for healthy nutrition and Gabrielle Fellus reveals her passion: Krav Magà, the self-defense system developed in Israel.