MEDIA Pagine Ebraiche Celebrates a Year of Courage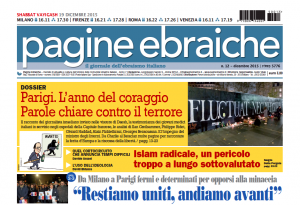 By Rachel Silvera
Pagine Ebraiche celebrates a year of courage. A few weeks after the terrorist attacks of November 13 and almost a year from the assaults on Charlie Hebdo and Hyercacher, the December issue of Pagine Ebraicha is devoted to France and its values.
Inside this issue readers will find many opinions on the European crisis and the war against Jihad: contributions from Itai Anghel, the Israeli reporter who made a documentary about ISIS, historians George Bensoussan and Ilan Greilsammer as well as psychoanalyst Gérard Haddad.
Two brothers originally from Florence, Gadiel and Jael Liscia, talk about their new life in France. The rabbi of Saint Denis, the area where the terrorists were hiding in Paris, shares his concerns and hopes. "Now is the time to stick together," says the president of the Union of Italian Jewish Communities, Renzo Gattegna.
The protagonist of our monthly interview is Joseph Stiglitz, winner of the Nobel Prize in Economics. Stiglitz stresses the importance of education to overcome inequalities and analyzes the roots of the Israel foundation.
Another article of interest is that of the head of the Italian delegation to the International Holocaust Remembrance Alliance, Ambassador Sandro De Bernardin. In this issue he presents his new projects to keep remembrance alive.
On January 17, Pope Bergoglio will visit the synagogue of Rome: Both President of the Foundation CDEC Giorgio Sacerdoti and former ambassador of Israel to Brussels, Sergio Minerbi share their views on this subject.
The December issue offers many stories in the culture section: One being a successful Israeli movie called Zero Motivation that explores the relationship between girls and the military service, another is an article dedicated to the poet Umberto Saba.
Author Marco Belpoliti presents his new book, "Primo Levi. Di fronte e di profilo". The magazine Vogue seems to have a new crush: Orthodox Jewish women style.
Finally there it ends with a delicious item: Rafael, the Parisian gourmet restaurant run by the Michelin-starred chef Simone Zanoni. This Italian-Kosher restaurant is his first challenge and it seems it is already a hit.