FOOD A Kosher Gourmet Paradise in Paris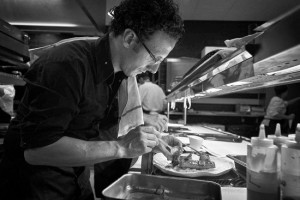 By Francesca Matalon
Everybody remembers TV super-star chef Gordon Ramsay fighting against culinary nightmares in every corner of the world shouting, throwing dishes and then later reconstructing them in order to make the worst of taverns become the trendiest foodies' paradise. With that in mind, it is hard to be surprised by the metamorphosis of the kosher Paris restaurant, Le Rafael. It shouldn't be surprising as it comes from the expert hands and mind of Gordon's Italian student, Simone Zanoni. Zanoni also runs Ramsay's starred restaurant the Trianon Palace in Versailles. His goal, after a year from the opening, is to get the precious Michelin stars reward for Le Rafael as well; as the first luxury kosher restaurant in Paris.
Le Rafael is located in the posh and heavily Jewish XVII district. It is owned by Jewish entrepreneur, Michael Lehian. The rabbinical court of Paris provides the kosher certification. However on the menu there is none of the Ashkenazi or Sephardi traditional dishes that can be found in any of the other 300 kosher restaurants in the French capital. Rather a dinner at Le Rafael is the ultimate experience for all kosher-keeping gourmands where they can taste French delicacies such as a terrine of foie gras or a "best end of lamb" with moussaka – and many other long and complicated names that require the help of Google to be fully understood.
"Honestly, the kosher restaurant that existed before Le Rafael was quite horrible, the only thing we kept were the walls", Zanoni told. "Then – he added – we tore them down too!" The massive renovation cost 600,000 euros, and now the restaurant has a fully fitted kitchen like at the Trianon, as well as white tablecloths, purple upholstered chairs and pearl grey walls. "There was a request for something like this with no offer, so we created the offer," Zanoni summarized.
The chef defines Le Rafael as his challenge. He said that he had to forget everything he had learned in his career in order to create "kosher food that can compete against the non-kosher food of the fanciest restaurants in Paris." "If I focus only on the limits of kosher dietary laws it won't work," he told himself at the beginning, while choosing to have a meat kitchen. But limits, as he experienced, "push us to be more inventive, I love that!" The secret of his dishes is to "keep it simple and give products the maximum of expression," which also means to prepare a purée of carrots buying the vegetables from a farmer "who talks to them the same way as he talks to his wife."
The French newspaper, Libération, defined Le Rafael's style as "Kosher that doesn't lack the cachet". It seems that neither Parisians nor tourists are intimidated by the prices. Not even the threat of terrorism after the attacks at the kosher supermarket Hypercacher in January and last November's tragedy, could not keep diners away from Zanoni's creations. And so, after a year of the chef travelling back and forth from Versailles to the XVII district Zanoni says, "A part of me was wondering if this was professional suicide. I am happy to say that it turned out I was wrong."