MEDIA Girls on DafDaf: Terrible, Smart and Honest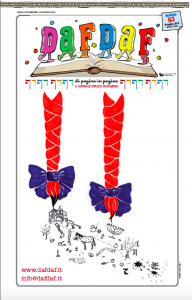 By Ada Treves
Pippi Longstocking's braids have turned into brushes in the cover by Luisa Valenti, an animage that captures the spirit of DafDaf number 63. Sixteen pages of books, music, ideas, projects and a great desire to smile and play, together with the capacity to take some risks, without forgetting history and traditions, but looking at the future.
With equal sensitivity Nadia Terranova has mixed, in the section dedicated to books, the birthday of a mythical character, the heroine of a generation, with the history of many "terrible little girls", with Lotta Combinaguai, the other character by Astrid Lindgren that arrives for the first time in Italy (published by Mondadori) with the illustrations by Beatrice Alemagna, and we added a sketch by Vanna Vinci to open five pages in which everything speaks of smart girls, from La bambina fulminante and La piccola battaglia portatile by Paolo Nori, to Matilde by Rohal Dahl to Elsina. Or like Hania, the character in Cavaliere di luce by Silvana De Mari, who "seems to embody all the possible harm but in reality she is just fiercely sincere. But sincerity can be the most terrible weapon of all."
Parpar (butterfly, in Hebrew) is a series of books that Giuntina dedicates to young readers, and this month it offers a novelty: the fifth title is about a small village and a strange marriage, and with Il matrimonio che salvò una città goes back to the theme of the first book, music. And it is in the music section of DafDaf that Maria Teresa Milano in this difficult period incites young readers towards optimism and openness to the world, suggesting to listen to "Forever Young" by Robert Allen Zimmerman – yes, Bob Dylan – maybe in the version by the civil rights activist Harry Belafonte, to hope for a better future for everyone.
"May you always do for others
And let others do for you
May you build a ladder to the stars
And climb on every rung
May you stay
Forever young
Forever young
Forever young
May you stay
Forever young
May you grow up to be righteous
May you grow up to be true
May you always know the truth
And see the lights surrounding you
May you always be courageous
Stand upright and be strong"
But being strong and brave does not mean we need to give up a little joy, so the following pages bring us back to the festive atmosphere of Hanukkah, with Roberta Anau, the "cuciniera and scribacchina" that this month has decided to summarize with some irony the history of Hanukkah (whatever its name):
"- We are about 167 AD
Hard times for the Jews,
Foreign domination,
Temple desecrated,
Victorious revolt led by Judah ha-Maccabi,
No oil to rekindle the lamp in the Temple,
Only a very small quantity of oil is found
MIRACLE, that little oil lasts eight days! "
That is, to quote another famous line, "Jewish holidays are basically all very similar: they wanted to exterminate us, they did not succeed, we celebrate eating!" And Hanukkah normally means oil and fried food, but this time DafDaf proposes to cook latkes and apple pancakes baked in the oven… The page by the morà Dafdafà is about Hanukkah as well, presenting its main characters, among dreidels and candles, while the sense of solidarity towards strangers is the subject of the two pages dedicated to values, about the story of Ruth and Naomi. And the last page of DafDaf is as usual devoted to one of its readers: Jasmine, who calls herself "curious", does not like going to school and would like to make a great doctor.