MEDIA Toscanini in the spotlight on Pagine Ebraiche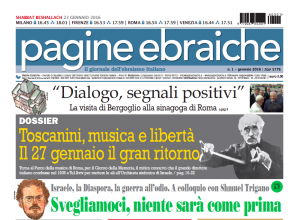 By Rachel Silvera
The sound of courage, the sound of freedom are celebrated in the new issue of Pagine Ebraiche. January's special section is devoted to the orchestra conductor Arturo Toscanini.
Famous worldwide, Toscanini refused to lean to Fascist dictatorship and in 1936 he agreed to direct the opening concert of the Israeli Philharmonic (founded by the violinst Bronislaw Huberman). Through the orchestra, Huberman saved many Jewish musicians from Nazi persecution. The special section, edited by Ada Treves, features contributions from musicologist Enrico Fubini, journalist Viviana Kasam, Gabriele Nissim (President of Gariwo), Josh Aronson, Harvey Sachs, Gabriel Vole, Mario Soldati and Hebrew scholar Maria Teresa Milan.
The music of Arturo Toscanini will be celebrated with a huge concert for Holocaust Memorial Day on January 27, 2016, which is also sponsored by the Union of Italian Jewish Communities.
After the attacks in Paris, the sociologist Shmuel Trigano, founder of the Observatoire du monde juif, reflects on the future of French Jews and launched a message: "This is the right time to wake up".
Moreover, Pagine Ebraiche interviewed young Italian Jews who have decided to live in Paris to find out their feelings and reactions after the last months terrible events.
The economist Rony Hamaui (Cattolica University of Milan) shares his vision following the agreement signed by the some western countries with Iran. From the economic point of view, Teheran might not turn out to be the El Dorado governments and entrepreneurs are expecting.
In the Jewish history blood means unity and division, identity and pretext for persecution. This is the topic of the exhibition at the Jewish Museum in London, "Blood Uniting & Dividing", sponsored by the Pears Institute for the study of anti-Semitism. The director of Pears David Feldman explained: "Blood is central to the Jewish religion and rituals. It has been used by Jews for defining themselves but it has been also used by others to mark Jews as 'different' and to persecute and discriminate against them. Through the exhibition and the associated collection of essays we hope to provoke thoughtful responses to the paradox of blood. "
Historians Alberto Cavaglion and Anna Foa discuss the new 'book "Writing for Justice", by Elèna Mortara. The volume focuses on the Edgardo Mortara case, and also on the extraordinary life of Victor Senjour, a New Orleans expatriate writer who lived in France.
Pagine Ebraiche ends with an ode to a classic ingredient of the Jewish culinary tradition: the pickle.