CULTURE An Exhibit in Milan Tells the Story of the Jewish Refugees in Shanghai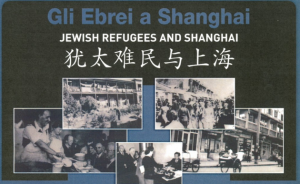 By Daniel Reichel
 
From the beginning of the Thirties to the beginning of the Forties, many Jews fled Europe and found refuge in Shanghai, to escape the persecution of Nazi and fascist regimes. Although the story is almost unknown in Italy, the country played a key role in these events. From 1933 to 1940, most of the refugees fleeing to China journeyed through Italy before sailing to Shanghai from the ports of Genoa and Trieste. The stories of these European Jews, about 18,000, is presented in the exhibition (for the first time translated into Italian) entitled, "The Jews in Shanghai" at the Milan Holocaust Memorial – Binario 21.
 
Inaugurated on September 18, the exhibition is open until December 15. The exhibition was organized by the Confucio Institute of the Catholic University and by the University of Milan in collaboration with the Shanghai Jewish Refugees Museum, the Milan Holocaust Memorial Foundation and the Italian Institute of Culture – General Consulate Italy to Shanghai.
 
"The history of Jews in Shanghai is the proof that language barriers can be overcome and coexistence and integration are possible everywhere," said the vice-president of the Milan Holocaust Memorial Roberto Jarach.
 
One of the key figures in the Jewish flight to Shanghai was Feng Shan Ho, the Chinese consul in Vienna. He fought against anti-Semitism and granted visas to many Jews by offering them an escape route to the Far East. This figure (known as the "Chinese Schindler") was later named one of the Righteous Among the Nations.